Our Doctor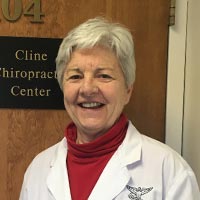 Dr. Patricia Cline, DC
Dr. Cline graduated from Logan College of Chiropractic in 2005. Prior to becoming a Doctor of Chiropractic, Dr. Cline was a Licensed Massage Therapist, the owner/operator of a shoe repair business and a zoo keeper!
Dr. Cline grew up on a farm in Kansas. She loved big trail rides on horseback with family and friends. She has 3 children, 7 "grand" grandchildren and 1 great grandchild. She settled in Maine because: "I feel happy here!"
Dr. Cline is a member in good standing with The American Chiropractic Association, The Maine Chiropractic Association, and The International Chiropractic Pediatric Association.